KERSTEVENT 2023
Vier kerst samen met DRI Rubber
De laatste maanden van het jaar zijn gearriveerd, wat betekent dat Kerstmis er ook weer aan komt. Ben jij al begonnen met de voorbereidingen? Geen stress, wij helpen je op weg. Met de tips op deze pagina, maak er je er gegarandeerd een mooie Kerst van! Kom je hier puur en alleen voor de tweede hint, scroll dan snel naar beneden!
Eerst beginnen we bij het begin: waarom vieren we eigenlijk Kerstmis? Tijdens Kerstmis vieren Christenen de geboorte van Jezus Christus. Kerstmis wordt al eeuwenlang gevierd. In de vierde eeuw werd 25 december door de Christelijke kerk officieel vastgelegd als geboortedatum van Jezus. Er wordt overigens sterk getwijfeld aan die geboortedatum, zo zou Jezus volgens historici op 17 juni zijn geboren, maar dat is een discussie die we je graag besparen.
"Christmas may be a day of feasting or of prayer, but always, it will be a day of remembrance, a day in which we think of everything we have ever loved."
Waar de een kiest voor een kunstboom, gaat de ander weer ieder jaar op zoek naar een mooie echte boom voor in huis. Maar wat maakt nu een goede kerstboom? Hier kun je allemaal op letten.
De keuze van het soort boom hangt af van jouw voorkeur. Wil je de boom lang laten staan, kies dan een Nordmann. Wil je een heerlijke dennengeur in huis, ga dan voor een spar. Er zijn verschillende soorten sparren. Wil je bijvoorbeeld een kleine boom, kies dan voor een Servische of Japanse spar.
Een kerstboom laat zijn naalden vallen door veranderende leefomstandigheden. Voorkomen kun je de naalduitval niet, je kunt het wel beperken. Zorg dat je de boom voldoende water geeft, voorzie hem van kerstboom- of snijbloemenvoeding en plaats de boom bij voorkeur niet in de buurt van de verwarming.
Ook met kerstbomen kun je duurzaam omgaan. Zo zijn er telers en tuincentra waar de bomen niet bespoten worden met bestrijdingsmiddelen. Een andere duurzame keuze is kiezen voor een boom met kluit, want deze terug geplant kan worden. Zo kan de boom bijvoorbeeld na de kerstperiode de tuin in!
Wil je een keer wat anders dan gourmetten of weet je nog helemaal niet wat je wilt eten? Voor wat culinaire inspiratie, probeer eens (een van deze) gerechten, en maak er zo ook een hele smaakvolle Kerst van!
Gevulde varkenshaas op zijn Italiaans
Een gevulde varkenshaas met onder andere pesto, mozzarella en tomaatjes, omwikkeld met licht knapperig gebakken parmaham.
4 personen
+/- 40 minuten bereidingstijd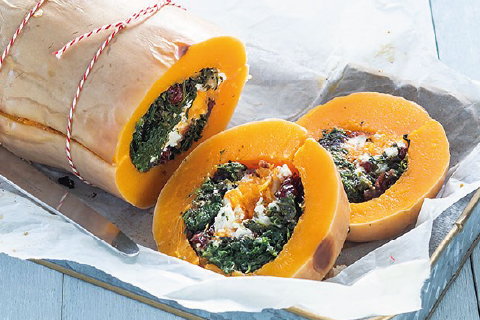 Een feestelijk en kleurrijk vegetarisch kerstrecept van gevulde flespompoen met spinazie, feta en cranberry's.
4 personen
+/- 15 min. + 1 uur bereidingstijd
Langzaam gegaarde zalmfilet
De zalmfilet wordt langzaam gegaard in de oven op een bedje van lemoncurd en mosterd, vervolgens bestrooid met dille.
4 personen
+/- 40 minuten bereidingstijd
Muziek: de kerst playlist
We hebben onze favoriete kerstnummers voor je op een rijtje gezet, zodat jij een knallende muzieklijst hebt voor tijdens de Kerstdagen! Maar je mag 'm natuurlijk altijd luisteren hoor.
Jingle Bells – The Tabernacle Choir
All I Want For Christmas Is You – Mariah Carey
Have Yourself A Merry Little Christmas – Frank Sinatra
It's the Most Wonderful Time of the Year – Andy Williams
Last Christmas – Wham!
Santa Tell Me – Ariana Grande
Frosty The Snowman – Guy Lombardo
Stop The Cavalry – Jona Lewie
It's Beginning To Look A Lot Like Christmas – Perry Como
Lonely This Christmas – Mud
Bakske Vol Met Stro – Urbanus
Rockin' Around The Christmas Tree – Brenda Lee
Let It Snow! Let It Snow! Let It Snow! – Dean Martin
Santa Claus Is Comin' To Town – Mariah Carey
Do They Know It's Christmsa – Band Aid
What Am I Gonna Do This Christmas – Frankie Laine
Sleigh Ride – Boston Pops Orchestra
Little Drummer Boy – Boney M.
Thank God It's Christmas – Queen
Merry Christmas Everyone – Shakin' Stevens
Jingle Bell Rock – Bobby Helms
Walking In A Winter Wonderland – Bing Crosby
Rudolph the Red-Nosed Reindeer – Gene Autry
Happy Xmsa (War Is Over) – John Lennon
Christmas Time – Bryan Adams
We Wish You A Merry Christmas – André Rieu
Tijd voor een paar kerstweetjes! Wist je bijvoorbeeld dat:
1. Jingle Bells eigenlijk helemaal geen kerstliedje is.
Misschien wel het meest populaire kerstliedje wereldwijd, maar oorspronkelijk dus helemaal niet voor Kerstmis bedoelt. Jingle Bells zou zijn geschreven voor Thanksgiving, door James Lord Pierpont in 1857. Het origineel heette 'One Horse Open Sleigh'.
2. De Kerstman in Canada een eigen postcode heeft.
In Canada heeft de Kerstman zijn eigen postcode. Kinderen krijgen zelfs antwoord op hun post, maar dan moeten ze hun brief wel voor 16 december versturen naar:
SANTA CLAUS.
NORTH POLE.
HoH oHo CANADA.
3. In 1914 op kerstavond niet gevochten werd aan het Westelijk Front.
Het is de Eerste Wereldoorlog, kerstavond. Moegestreden komen Engelse en Duitse soldaten uit hun loopgraven en zoeken elkaar op. Samen zingen ze kerstliederen, wisselen eten en drinken uit en spelen een potje voetbal. Heel even is er vrede, de volgende dag gaat de oorlog weer door.
"Aan de magie van kerst komt echt geen eind. Want het is de liefde voor elkaar die nooit verdwijnt."
Nu we je helemaal klaar hebben gestoomd voor de Kerstdagen, is het tijd om de tweede hint te delen van het DRI Rubber Kerstevent. Zo zijn we weer een stap dichterbij wat we gaan doen op dinsdag 19 december.
De afbeelding die je hier ziet bevat een geheim, kan jij 'm vinden?