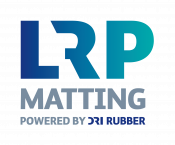 Boosting the well-being of humans and animals, and improving the environmental footprint of both our customers and the rubber industry as a whole, LRP Matting has a solution for every surface and every size. LRP's long-lasting rubber products – made from the highest quality reprocessed-/ fiber reinforced rubber – ensure you can achieve the highest levels of protection and comfort.
WE ARE SPECIALIZED IN CUSTOM SOLUTIONS, PRIVATE LABEL- & OEM-PROJECTS.
Animal & Agriculture
Animal care is highly valued in our company and is shown in our products. That is why we offer several types of rubber mats for agricultural use. Made from the highest quality rubber, to provide your animals with a safe and comfortable (living) space.
Commercial & Industrial Matting (wholesale)
There is an entire group of mats developed primarily for use in commercial and industrial applications, such as kitchens, production halls and waiting areas. These mats – made from reprocessed/ fiber reinforced rubber – come in different shapes and sizes to suit your exact needs.
PRIVATE LABEL & OEM-PROJECTS
We are also specialized in private label/ Original Equipment Manufacturer (OEM)-projects. Not only are we able to assist in creating a more efficient production process, we can also help ease your supply chain management. You don't have to carry the costs… we do the job for you!
Largest mats in the industry
Since 1971, LRP Matting has been manufacturing rubber mats and flooring for use in recreational, agricultural and industrial facilities. We take great pride in offering the largest mats in the industry to simplify the installation process and minimize the number in seams in any area. For longer installations we offer, optional, interlocking tabs.
Powered by DRI Rubber
Working closely with market leader DRI Rubber gives us access to the most advanced technologies for upcycling rubber waste streams. Combined with a century of experience with real-world applications means we can support you with the very best high-quality rubber matting solutions.
Made-to-measure – Request a quote!
With over 40 years of experience, we know how to create rubber mats of the highest quality. Whether you are looking for a mat for in your kitchen, in a dog kennel or on the farm: we have got you covered! Just tell us what you need and we will do the rest.