Other commercial matting products
The largest mats in the industry
We take great pride in offering the largest mats in the industry to simplify the installation process and minimize the number of seams in any area. For longer installations, just ask for our customization capabilities. We also offer optional interlocking tabs. We have a solution for every surface and every size.
Ice Rink Mats & Rink Runners
Our Ice Rink Mats and Rink Runners offer protection for virtually every type of existing flooring and are perfect for use in new installations as well. hey absorb the shock and impact from skates in all traffic areas, including locker rooms, bench areas, concession stands, entryways, penalty boxes, and access areas to the skating surface. Rink Mats resist cuts from exposed blades:
Ice Rink Runners are recommended for use in areas with protected blades. Made from non-porous natural rubber, these products will not absorb moisture, such as melted ice, spilled drinks, etc. They are easily maintained with soap and water, and will not crack or peel even under the most extreme temperatures.
Resistant to exposed blades
These heavy-duty 5/8″ thick rubber mats are ideal for the most demanding areas around the skating rink. The mats are the largest in the industry and are available in lengths up to 16' and widths to 6'. They lay flat and resist curling when installed over any level surface. These mats have a diamond patterned surface.
3/8″ thick genuine rubber
where protected blades are used, Rink Runners come in rolls, 4' wide and in lengths up to 250'. They can be custom-cut to your exact specifications. Recommended for installation with an adhesive and sealant, they are available in solid black, or black with yellow, white, green, or blue flecks.
Our 73″ x 49″ budget mats are 1/2″ thick and made from the highest-quality rubber with  true-square edges to align perfectly without unsightly seams or gaps. For installations in areas where blades are exposed , Econo Rink Mats have a diamond- pattern top to provide excellent traction.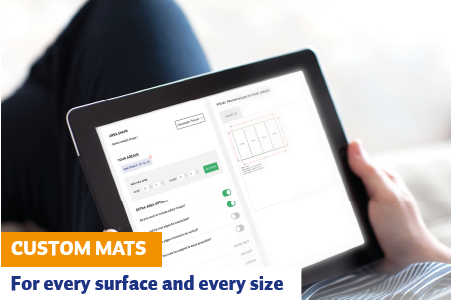 We have a solution for every surface and every size. LRP's fiber reinforced, long-lasting products ensures you can achieve the very highest levels of protection, comfort and safety, while meeting the most demanding durability and hygiene requirements. We make the USA's biggest mats (16′ x 6′) and can deliver made-to-measure (custom) seamless solutions.
Interested in receiving the latest news, product information, developments and special offers? Then subscribe to our newsletter. Just fill out the form, and we will send you an e-mail right away!
Our staff will be happy to assist you in choosing the proper and most cost-efficient product for your particular application. Just contact us by following the details below!