For partners
Upgrading quality and adding value
DRI Rubber processes and handles approximately 50.000 metric tons of rubber waste materials, on a yearly basis. Our ability to deliver consistency, while being flexible to our customers and suppliers remains unmatched in the industry.
DRI Rubber services the global tire plants in reducing waste streams. We provide many logistical solutions, and most importantly, because of our upcycling and circular processes we can even achieve end-of-waste.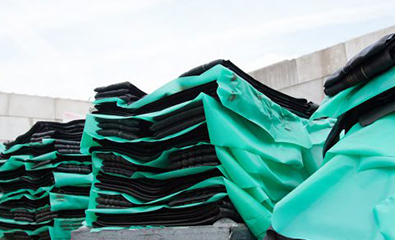 As a company, we put great value in:

"We have developed an unique 'waste-to-product' process and are able to deliver the better, circular & sustainable alternative"
Our process is 100% aimed at upgrading quality and adding value. We make sure that we use the right quality streams and recipes for our compounds and finished products. By continously adapting to changing markets, environmental challenges and worldwide legislations, we have earned our position as an industry leader in rubber (re)processing.
DRI Rubber was the first in the industry to developed the Fiber Reinforced Compound, also known as FRC®. In 2020 we launched our newest product portfolio: Sustacom. These circular rubber compounds are based on the best practice application requirements. And, did you also know that DRI Rubber is the inventor of the current grading system used in the global tire and rubber industry? Our A, B and C-grades are adopted worldwide.
"The products and services we deliver meet the requirements of our customers and the applicable laws and regulations. Always."
Compliance is our top priority. However, that is more than just rules and regulations. In order to manage all necessary tasks, DRI Rubber uses the online tool OK COMPLY. It also gives us insight in our own organization. Our goal: being 100% compliant.
We work with a quality- and environmental management system, based on NEN-EN-ISO 9001 and 14001. All persons performing activities under the DRI Rubber banner must comply with the applicable requirements of the system.
DRI Rubber has an environmental permit for dealing with rubber waste and complies with all applicable international and European laws and regulations. We are fully REACH-Compliant. This ensures our license to operatore for sourcing, manufacturing and selling. We are also a member of the Dutch Rubber Association, NRK.
Ready for a sustainable collaboration with DRI Rubber? Get in touch!
Robert de Ruijter
CEO & Owner