Animal & Agricultural Rubber Matting
Animal care is highly valued by us and is shown in our products. That is why we offer several types of rubber mats for animal and agricultural use. Our rubber mats provide instant traction, are wear-resistant and made from the highest quality reprocessed/ fiber reinforced rubber, providing your animals with a safe and comfortable space. 
A HAPPY ANIMAL IS HAPPY CUSTOMER
Made-to-measure
We have a solution for every surface and every size. We make the biggest mats and can deliver made-to-measure (custom), seamless solutions.
Catalog
We have gathered all our animal and agricultural rubber matting solutions in a product catalog. Click here to claim your free copy.
Sandsaver
Reduce your sand usage and save money with the Sandsaver Mat. With its solid base, the Sandsaver keeps sand beds more level. The Sandsaver is an excellent alternative for conventional open stall bases.
Soft Stall Mat
The Soft Stall Mat is a high-quality circular rubber mat that can turn every cold and/ or hard surface into a comfortable place for your horse. This mat can also be used for wall protection, and in grooming areas, trailers and kennels.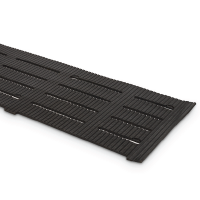 Slat Mat
The Slat Mat has been designed primarily for the beef and dairy industries. The Slat Mat has several benefits, such as increased weight gain, improved comfort and welfare, reduction in injuries, and increased animal movement.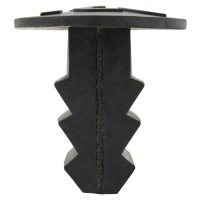 Slat Mat Fastener
The Slat Mat Fastener is our patented fastening system for securing livestock rubber mats on slatted concrete floors. The Fastener is unique for its all-rubber composition, and is constructed with DRI Rubber's FRC®.
Double Button Mat
For the safety of your herd, the Double Button Mat has a grooved underside that allows for drainage and grip for sloped areas. It provides greater cushioning, reducing the amount of stress to both your animal and the mat.
Hammer Top
The Hammer Top Mat is a matting solution for your cows and horses. It provides both safety and comfort and can be used in several environments. They will lie flat without curling and can resist shifting under heavy traffic.
Dozer Mat
Whether it is to cover grass, concrete, wood or asphalt, the Dozer Mat is the ideal solution for protecting your surface from steel-track vehicles. These mats also improve the traction of vehicles, preventing slipping.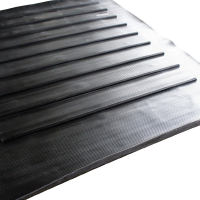 Trailer/ Ramp Mat
It is important that your horse trailer, often being a small area, is a comfortable and safe place for your animal. With our Trailer/ Ramp Mats you can outfit your complete trailer, from entering to arrival at your destination.